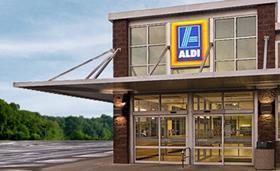 Aldi has signed a deal with an American grocery start-up to offer same-day home delivery in three US cities.
The collaboration with San Francisco-based delivery firm Instacart has sparked speculation that the discounter, which is taking steps to expand its presence in the US, may launch a similar service in the UK. But Aldi said it currently had no plans to do so, The Telegraph reported.
The new service, which promises deliveries in as little as one hour, will be piloted in Los Angeles, Atlanta and Dallas from 31 August and, if successful, could be rolled out across the country.
The German company also announced in June that over the next five years it would invest billions of dollars to open around 900 new stores in the US with the aim of becoming the third-largest grocery chain in the country.
That same month, Lidl, Aldi's biggest rival in Europe, also started expanding in the US.
The Instacart deal follows Amazon's £10.7 billion takeover of premium health food retailer Whole Foods in June, which has forced bricks-and-mortar grocery chains in the US to improve their online delivery offer.
Instacart, in particular, was affected by the Amazon deal because it had been a partner of Whole Foods since 2014. It responded to the takeover by saying it was now "more important than ever" to help grocers compete online "given Amazon just declared war on every supermarket and corner store in America."
On 15 August, Amazon also announced a new service called Instant Pickup to allow customers to order selected basic supplies from an app and collect them from a nearby pickup locker 'within two minutes.'