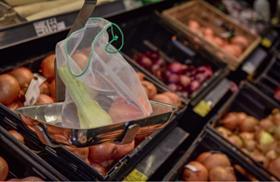 Supermarket Asda is removing 101m pieces of single use plastic from its stores each year by switching from plastic to reusable fruit and veg bags.
The move follows a nine-store trial and following positive customer and colleague feedback, Asda has now decided to remove all single-use plastic fruit and veg bags from its stores across the UK, instead offering customers a reusable alternative.
Priced at 30p each, Asda's reusable bags offer customers an 'affordable, reusable alternative to single-use plastic fruit and veg bag, which are made from 100 per cent recycled plastic water bottles', the retailer said in a statement.
During the trial period, Asda sold an average of 30,000 bags each week as customers continue to support efforts to tackle plastic pollution.
Dominic Edwards, director of produce said: "We know that our customers and colleagues are really passionate about doing the right thing for the environment and this move is just another way we are helping them make sustainable choices, without compromising on the quality of our produce.
"Following some really positive feedback on our trial, we're excited to roll out the removal of the plastic bags across all our stores, as we continue to work towards our plastic reduction targets as a business."
Asda has continued to look at ways to remove plastic from across its fresh produce and later this year, the retailer is going to remove the plastic punnets from Conference Pears saving an additional 170 tonnes of plastic each year, the company said.
These initiatives are part of Asda's long-term commitment to remove single use plastic from its business. Since 2018, the supermarket has removed 9,000 tonnes or plastic and committed to removing 3bn pieces of plastic from own-brand products by 2025.
In separate news, Asda CEO Roger Burnley announced yesterday (18 March) that he will be stepping down next year once the Asda takeover by billionaire Issa brothers, subject to approval by the CMA, has gone through.