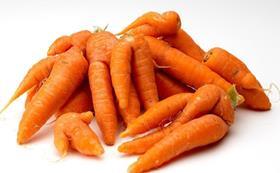 Asda is putting its 1000th tonne of wonky carrots on sale, two years after introducing wonky varieties into their supermarket aisles.
The retailer announced the milestone today, coinciding with the anniversary of the their Wonky Veg Box selection which offered consumers 5kg of misshapen or irregular veg for £3.50 which has saved 300kg of fresh produce from waste.
Ian Harrison, Asda's produce technical director, said the sale of wonky veg has made them "realize how much further they could go', as well as benefitting farmers by taking more of their crop and reducing waste.
"The introduction of the wonky range taught us that customers are more than open to a crooked carrot or a blemish and a bruise here and there. We knew the introduction of wonky veg was benefitting farmers and contributing to the reduction of food waste, but it also made us realise how much further we could go. We decided to look at our specifications across the board in the produce aisle, starting with carrots."
Previously Asda allowed 10% of carrots with cosmetic defects on to its shelf as part of its Grower's Selection range. This number was increased to 40 per cent in May 2017, meaning 690 tonnes of misshapen carrots have been sold as part of the retailer's Growers Selection range in the last year alone.
Guy Poskitt, a carrot grower for Asda said: "With the changes to Asda's carrot specifications, we can work more closely to ensure we're making the most of our crops to reduce the number of wonky carrots which previously would have been thrown away. Easter for us is a peak time for carrots, so this year we're set to harvest four million of the vegetable as customers chomp their way through more than ever – curves and all."
Asda said they will harvest four million carrots this week ahead of Easter weekend.