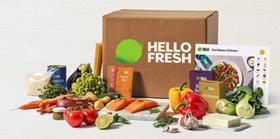 Recipe box outfit HelloFresh UK has been certified as a B Corporation in recognition of its social and environmental standards relating to its governance, workers, community, environment, and customers.
HelloFresh said the certification reflects itsmission to change the way people eat forever, its carbon neutrality, and its work to reduce emissions across production facilities by 60 per cent and halve food waste going to landfill or incineration per euro revenue by 2022.
To become a B Corp, all HelloFresh's UK operations and practices were assessed through the lens of environmental and social responsibility, with a specific focus on energy supplies, waste, water use, work compensation, diversity, and corporate transparency.
The company pointed out that it is the highest-scoring recipe box provider in the UK which has certified as a B Corp to date, with the certification also extending to its sister company, Green Chef UK. HelloFresh UK and Green Chef UK will legally embed their commitment to purpose beyond profit in their company articles.
Laurent Guillemain, chief executive of HelloFresh UK, said: "HelloFresh UK is proud to become a B Corp. The certification is further recognition that we are serious about changing the way people eat - forever. We work hard to have a positive impact on people's lives and the environment - from helping communities lead a balanced and healthy life, to significantly reducing food waste and CO2, and pioneering packaging innovations.
"Changing the way people eat is an ambitious goal, and one that can only be achieved with smart, innovative, and driven people. This important achievement of becoming a B Corp is thanks to them."
Kate Sandle, director of programmes and engagement of B Lab UK, added: "Welcoming HelloFresh UK is an exciting moment because they have an opportunity to lead the way within the food industry. Their commitment to doing business differently will be an inspiration to others and really help spread the idea that we can redefine success in business to be as much about people and planet as it is about profit."