Industry body begins publishing ranking of which stores are backing British apple growers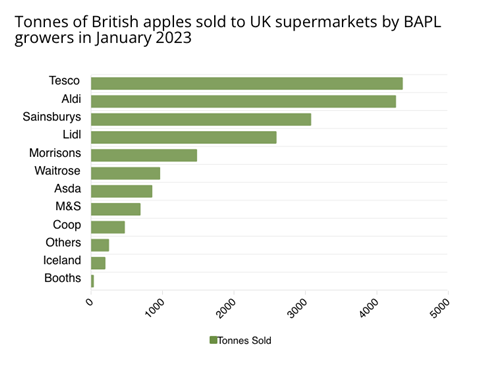 Trade body British Apples & Pears Ltd (BAPL) has begun publishing monthly sales data to highlight which supermarkets are buying the most British apples.
The data is aggregated from BAPL member returns and shows the tonnages of British apples harvested from the 2022 apple crop, and sold by growers to British supermarkets.
The monthly BAPL data will be aggregated at the end of the growing year – in late Summer 2023 – to enable BAPL to announce its British apple retailer of the year.
The first listing reveals market leader Tesco sold the most British apples in January, narrowly ahead of Aldi. Sainsbury's was third and Lidl fourth.
Big-four supermarket Asda only came in seventh place in the ranking, behind Morrisons (fifth) and Waitrose (sixth).
"British retailers say they want to support British, and this data will reveal those retailers that really are buying British," explained BAPL executive chair Ali Capper. "We know from previous data that Aldi, for example, sold more British apples than any other supermarket in the year ending July 2022.
"We are now well into the sales year for the 2022 British apple crop and with this new monthly data we'll have a much more current picture of British apple sales by supermarket.
"It's going to be fascinating to see which supermarket comes out on top this season. It's so important all our supermarkets get behind British farmers and our wonderful British apples. We know that consumers want British if at all possible. When we have such wonderful fruit available in good quantities, that will store well, there really is no reason to look overseas."
The monthly UK apple sales data can be viewed at www.britishapplesandpears.co.uk/supermarket-sales-data. New monthly sales data will be published in the third week of the following month.