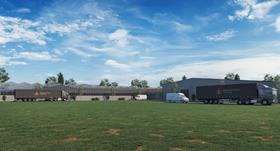 Major British farmer Beeswax Dyson Farming has joined the joined the Berry Gardens co-operative.
Beeswax Dyson Farming, which controls the agricultural interests of entrepreneur James Dyson, recently unveiled plans for a six-hectare glasshouse at it its site in Carrington, Lincolnshire, in which it will grow premium strawberries for the UK market.
Beeswax Dyson fruit will be available from 2021, sold through Berry Gardens to retailers.
According to the companies, the tie-up has evolved thanks to their shared goal 'to produce fruit in an ethical and sustainable way, using technology and research to minimise the environmental impact.'
Richard Williamson, managing director of Beeswax Dyson Farming, said: "Our business exists to produce and supply high-quality food in the way tomorrow's market will demand. We therefore believe in a responsible attitude towards the environment and in a modern, mixed and hi-tech approach to the application of technology in farming. In short, we're doing things a little differently.'
Williamson said this means building a state-of-the-art facility in terms of size, complexity, sophistication and green credentials, with strawberries being grown using heat and light generated by an anaerobic digester, C02 extracted from biogas and an advanced LED lighting system.
"Working with Berry Gardens means we'll be able to deliver a short, fully-transparent supply chain from glasshouse to table and build strong relations directly with our end customers to ensure our strawberries reach consumers in top-quality condition," he added.
Berry Gardens chief executive Nick Allen added: 'This feels like a very natural fit as we're already fully-committed to innovation in farming through a unique academic research programme which focuses on minimising water use, automation and robotics.
"Beeswax Dyson Farming not only adds an exciting and well-known British brand name into the mix, but a reputation for world-class innovation and we're sure their tech know-how and our genetics know-how will combine to give British retailers, and ultimately British shoppers, berries of the highest standard all year round.
"Even just the idea that we can grow and supply high-quality British strawberries all-year round, and be environmentally positive, is something for us all to be very excited about.
"I can absolutely see New Year/New You strawberry campaigns, Christmas strawberries, Valentine's strawberries and Easter strawberries. When you think how people love the taste of a good strawberry, and how good they are from a health perspective, this feels like a win for literally everyone."
The new Beeswax Dyson Farming facility is currently under construction, with steelwork beginning in June 2020, and will be producing fruit by May 2021.
Alongside the glasshouse the new facility will include a 1,500 sq m packing and coldstore facility where the strawberries will be housed and made ready for collection and delivery, as well as office facilities.