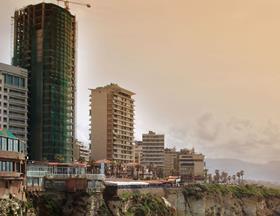 Lebanese catering supplier Royal Gourmet is preparing to bring seasonal British fruit and veg to Lebanon's capital in a bid to develop the city's underrepresented UK food scene.
The import business, which already supplies seasonal meat and seafood from the UK to Beirut, will soon expand its ranges to bring in British fresh produce as well. Products will range from British strawberries to Vale of Evesham asparagus to microherbs and cresses.
"We will follow the British seasons," said development director Noel O'Brien. "Whether it's Jersey Royals or Cornish new potatoes coming into season, we would be looking to feature those products on restaurants' menus."
O'Brien sees big opportunities for British fruit and veg in Beirut, whose food scene is dominated by traditional Lebanese and French cuisine.
"British produce is very poorly represented in Beirut at the moment," he said. "But the restaurant scene is really evolving. The old cliché of falafel and shawarma is still there but the offering is becoming much more sophisticated."
Royal Gourmet is optimistic about the prospects of the foodservice market in Beirut, whose downtown streets, after two decades of civil war, are now lined with glitzy bars, restaurants and fashion outlets. The city now has large numbers of wealthy consumers and an increasingly refined array of restaurants.
"There's a lot of disposable income, a lot of experimental people involved in foodservice out there and they're crying out for new ingredients," said O'Brien. "There are some serious grown up restaurants using some of the finest ingredients in the world."
One of these is the self-proclaimed 'farmers' kitchen' Tawlet, which unites food producers from across the country. Each day different a different producer takes charge of the kitchen and cooks dishes with their own produce.
Beirut recently beat off competition from Paris, Florence and San Sebastien to be named best international city for food by travel website Travel & Leisure.