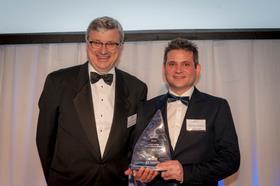 Belgian exporter BelExport has won a prestigious trade award in recognition of its export and trade achievements between the UK and the Benelux region.
The Golden Bridge Trade & Export Award was presented to the exporter by the Belgian-Luxembourg Chamber of Commerce (BLCC) and the British Chamber of Commerc.
It was received by BelExport CEO Maarten Lauwensat an awards ceremony in London, and presented by Belgian ambassador to the UK, Guy Trouveroy.
BelExport was chosen for its hard work in a competitive and high-risk environment, and its continuous quest for innovation in topfruit, the judges said. They also recognised the "sheer determination" of the company in the face of continued geopolitical and climate challenges.
BLCC chairman Michel Vanhoonacker said: "Since the inception of the Golden Bridge Trade & Export Awards 20 years ago, the world has changed a lot – in terms of socio-economic mutations, new emerging economies, the internet, a growing EU and more lately of course Brexit and the US elections.
"However, the trading links between the UK, Belgium and Luxembourg remain as strong as ever and celebrating and recognising companies contributing to this success story, is probably more relevant than ever. We are proud to have once again a series of high quality winners, which confirm our close ties and the need for the free flow of trade in Europe."