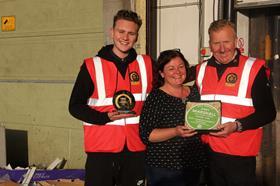 New Covent Garden Market wholesale business Bevington Salads picked up its second prize this year for donations to food waste charity City Harvest.
Bevington Salads managing director, Gary Marshall, said he was "humbled" to pick up the Best London Market Supplier award from City Harvest, having supplied the charity with fruit and veg for the past four years.
City Harvest said Marshall received the accolade for his "dedication and continued support in helping rescue food surplus".
City Harvest, established in 2014, was London's first food redistribution charity, rescuing food surplus and delivering to those who need to most across the capital.
CEO of City Harvest, Laura Winningham said: "We have worked with Gary for four years and we are so happy to present this award as way of thanks, and on behalf of everyone who has benefitted from receiving fresh food being given another life. It has a huge impact on the capital."
This is the first year of City Harvest's annual awards, setup to acknowledge the support of local donors and suppliers that have helped the group serve over seven million nutritious meals to those facing food poverty in London.
The prize makes it two this year for Marshall, after Bevington Salads picked up Wholesale Fruit and Vegetable Supplier of the Year at the FPC Awards in June.
Marshall said: "Bevington Salads has been supporting this wonderful charity since the start, I'm very honoured to receive this award. It's been a fantastic year for us following on from winning the FPC award.
"More important than that is the great work this charity does, it's very humbling and satisfying to be a small part of that."
Speaking of its City Harvest partnership Rebecca Barrett, director of communications and marketing for Covent Garden Market Authority, said: "The partnership with City Harvest is just one of the innovative solutions the Covent Garden Market Authority has successfully employed to tackle the growing concerns around food waste.Seeing Bevington Salads receive recognition from City Harvest for its outstanding contribution is a really proud moment.
"As a Market we made the commitment of sending zero waste to landfill nine years ago with positive initiatives to reduce food waste by diverting surplus food to charities or livestock feed. New Covent Garden Market's mission is to set itself apart as a leading site of its size, which sees thousands of tonnes of fresh produce delivered to the market each day."