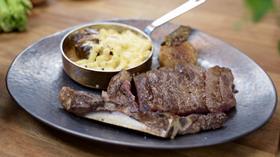 Hospitality fresh food supplier Bidfresh is launching a high-profile support programme for chefs, designed to encourage businesses to use the best fresh, seasonal and responsibly sourced produce on post-lockdown menus.
The campaign, called A Fresh Approach, is being rolled out across the three core Bidfresh businesses - fish and seafood specialist Direct Seafoods, catering butcher Campbell Brothers, and fruit and vegetable supplier Oliver Kay Produce - which between them supply thousands of hospitality and catering businesses nationwide.
A Fresh Approach is being launched with a series of newly-created recipes for autumn menus and specials boards, designed to engage customers and encourage eating out of the home.
Online recipes and guides
The programme will include online recipes and guides to sourcing and preparation of a range of dishes; videos demonstrating prep techniques to enable chefs to make the most of a range of profitable, but sometimes less-familiar cuts and species; and seasonality guides showing when produce is at its best in terms of quality, value and availability.
The initial set of recipes features ideas such as Spiced roast duck; Crab & nduja croquetas; Oxtail mac n cheese; and Pumpkin tarte tatin.
Jane Aukim, marketing manager of Bidfresh, said: 'As the dining-out sector reopens after lockdown, it's clear that some operators are having to race to keep up with customer expectations. People returning to restaurants and pubs are looking for varied, premium food choices, they're interested in local and sustainable produce, and demand for vegetarian and vegan options continues to grow.
'At the same time, the skills shortage in hospitality has been widely reported, and is unlikely to be resolved quickly or simply. To help overcome the challenges our customers face, we're encouraging them to share the workload with us.
'Let chefs focus on what adds value for customers, which is cooking great food, fresh to order, and beautifully presented. At the back end, let our specialists do some of the hard works in terms of slicing, trimming, filleting, and chopping. More than ever, investing a little more in the skills of specialist catering suppliers can make a huge difference to the bottom line, and bridge the gap between high customer expectations and lower labour availability.
'We also want to work closely with the new generation of chefs the hospitality sector needs to help them appreciate how the supply chain works.
'Overall, A Fresh Approach brings together the specialists from across the Bidfresh businesses to deliver a holistic approach to menu planning. It's no longer enough to add a single fish dish as an afterthought, or offer vegetarian and vegan choices that don't deliver the same wow factor as a sizzling steak. The whole menu has to work together.'
Operators and chefs can access the A Fresh Approach programme here.