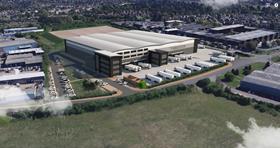 Retailer, wholesaler and distributor AF Blakemore is planning to open a new purpose-built warehouse in Bedford.
The company has signed a pre-let agreement on a 20-year lease for a 164,850 sq ft multi-temperature distribution facility on Manton Lane and is due to take occupancy in 2021, subject to planning permission. The site is expected to employ 200 people.
Blakemore said the new site would complement its existing network of distribution centres and provide the business with additional supply chain capacity to support targeted growth across its retail, wholesale and foodservice divisions.
Joint managing director Geoff Hallam said: "This is an exciting development for AF Blakemore and reflects confidence in the company's ability to grow in the markets in which it operates.
"The move will strengthen our reputation as a national food distributor, enable us to continue to improve our service to customers and ensure the long-term sustainability of the business.
"AF Blakemore has a firm commitment to responsible business practice, and positive engagement with colleagues, customers, the environment and the local community will be a clear focus for the business as we look to establish the new site."
Blakemore currently operates distribution centres in the West Midlands, West Yorkshire, East Sussex and South Wales.The company's headquarters will remain in Willenhall, West Midlands.