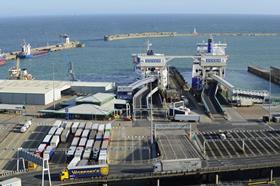 It was always going to be so, but few would disagree that Brexit has been a long, drawn-out affair with many false dawns – for want of a better word. Three Brexit deadlines have been set and scrapped, and as we work towards a fourth, 31 January 2020, few would be overly surprised if that was broken too.
While many businesses have been dismayed by the prolonged uncertainty, there's a strong argument for not rushing this most important of decisions and instead settling on a deal that the majority of MPs can get behind. Another benefit of the delays is that they have given our ports and logistics sector longer to prepare for potentially serious disruption after our EU exit.
Over the last few months there have been numerous reports on the tailbacks and delays we can expect at Dover and other British ports in the event of a no deal. Dover has estimated that two minutes of extra processing time for each lorry would lead to tailbacks of 17 miles. However, there now seems to be confidence at our ports that they are prepared for Brexit.
Last month, the Port of Dover's chief executive Doug Bannister told the packed audience at a Conservative Party Conference fringe event that Dover, the ports of Calais and Dunkirk, and the ferry operators that connect them, are "100 per cent ready for Brexit". He vaunted his port's "proven ability" to clear backlog and manage disruption "more than anywhere else" because of its capacity, frequency and efficiency. However, he stressed the importance of continued preparations to ensure trader readiness to keep the traffic moving.
At another fringe event at the conference Bannister also emphasised how important Dover is to trade, handling £122bn (17 per cent) of the UK's trade in goods, and referred to the port as Britain and Ireland's "just-in-time trade conveyor belt". The entry point has 120 ferry movements a day with a fleet of 12 ferries carrying up to 110 miles of lorries between them – more than all other UK ports combined.
"Business as usual means Dover as usual and that is what we have been working on," Bannister said. However, he stressed that minimising the risk of disruption will be dependent on the readiness of everyone involved, including ferry companies, hauliers, traders and border agencies, in both Britain and France. He added that "the government still needs to provide essential details of the border procedures and still has the opportunity to reduce the burden further by extending easements and postponing deadlines".
Striking a similar tone, Mike Sellers from Portsmouth Port says he expects the entry point to function as normal in the event of a no-deal Brexit, with the international cargo terminal continuing to operate without disruption. "We anticipate the port to remain unaffected as any issues concerning hauliers are managed away from the freight gates," he says. "Due to the comprehensive traffic management plans – which have been created by the emergency services, local authority and highways England – we do not anticipate disruption."
To help ensure this is the case, the Freight Transport Association has put together detailed advice for UK logistics companies and fruit and vegetable importers as they prepare for Brexit. There are several things they can do to get ready, however the organisation's European policy manager Sarah Laouardi cautions that being prepared "doesn't mean no friction", with ports expecting friction and congestion regardless in a no-deal scenario.
Laouardi reminds the sector that after Brexit products currently covered by the EU plant passport scheme will require a phytosanitary certificate issued by the authorities of the country of origin as well as a pre-notification on the PEACH system. Checks on these products will take place away from the border.
In a no-deal scenario exports from the UK to the EU will be subject to the full set of EU requirements currently in place for EU imports from non-EU countries. "Plant products, including fruit and vegetables, will have to enter the EU through a designated point of entry, and phytosanitary certificates issued by the country of origin will be required," says Laouardi. "One hundred per cent of consignments will be checked at the border, with documentary and identity checks carried out, as well as physical checks on a percentage of consignments."
She urges UK logistics firms to put processes in place to secure phytosanitary certificates and identify suitable designated points of entry and border inspection posts for products they wish to import and export. If they're using ro-ro ships, they will also need to give the haulier an original phytosanitary certificate to show at the border.
Above all, she stresses that hauliers shouldn't underestimate the need to coordinate with other actors in the supply chain, adding that even if there is a deal, some of the no-deal preparations are likely to remain relevant as a future free-trade agreement with the EU will probably not entirely remove phytosanitary requirements.
In terms of measures that the industry can take after Brexit to help minimise disruption, Laouardi urges fresh produce suppliers and hauliers to avoid moving consignments without the proper customs and phytosanitary paperwork so as not to compound disruptions at the border or risk having perishable consignments delayed, damaged or destroyed.
She also cautions that companies shouldn't drop their no-deal contingency plans if the Brexit withdrawal agreement is adopted as the transition period could come to an end without a free-trade agreement in place. "Even if there is a free-trade agreement in place, some of the no-deal preparations are likely to remain relevant," she says.