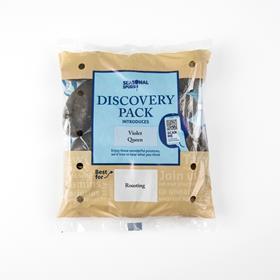 Branston is asking shoppers whether they want to see Violet Queen become a mainstay of the potato aisles as part of its launch of the eye-catching purple variety.
Violet Queen is being launched into selected Tesco stores for a limited time from this month, having been developed for its unusual colour and rich texture.
The variety will be available from mid-March to mid-April and is the first specialist potato to be included in the new Seasonal Spuds' 'Discovery Pack' concept, which offers shoppers the opportunity to try unusual varieties and give their opinions directly to the grower.
Described as the perfect potato for roasting or mashing, Violet Queen is particularly rich in polyphenol antioxidants called anthocyanins - the same type of antioxidant found in blueberries and blackberries. *Polyphenols are thought to limit the spread of free radicals in the body, slow cellular ageing and reduce the risk of heart disease and cancer,' said Branston communications manager Jackie Baker. 'They have up to ten times the antioxidant effect of vitamins C and E and Violet Queen potatoes contain 143mg of anthocyanins per 100g of fresh product.'
The potatoes are retailing in 750g packs and are being backed by product information and recipes, as well as space to provide feedback, on the Seasonal Spuds website, which can also be found via the QR code on the Discovery Pack.
"There are more than 3,000 different varieties of potatoes in the world and UK growers tend to focus on just a few popular ones,' Baker continued. 'Our potato experts try to unearth more interesting and unusual spuds for people to try however, unlike your everyday potatoes, they're only grown in limited amounts.
"We want to give consumers the opportunity to try Violet Queen and tell us what they think. They can do this on our website and social media by tagging Seasonal Spuds and using our dedicated hashtags.
"Our first small crop of Violet Queen potatoes and our Discovery Pack concept is the perfect way for us to define their popularity and decide whether to grow even more."
Seasonal Spuds is a consumer initiative by Branston to champion the health benefits, versatility and affordability of potatoes, as well as inspire consumers with delicious seasonal spuds recipes, competitions and information. It is hosted on its dedicated website and social media channels.