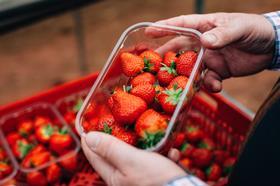 Aldi has announced the arrival of its first British-grown strawberries of the season, claiming a UK first.
The discounter's First Pick British Strawberries were due to be picked on Tuesday 18 February at Springfield Nursery in south Wales, to go on sale the following day in its store in Eign Street, Hereford.
The fruit will be selling for £2.79 for 227g, and supply will ramp up over the coming weeks.
Springfield Nursery grower John Lloyd said: "It's exciting to be sending the first British strawberries of the season to Aldi as we celebrate the new harvest. Despite all the awful weather and flooding conditions throughout January, we're pleased we've still been able to get on the front foot and send succulent, sweet fruit to strawberry lovers nice and early."
For the second year running, Aldi is claiming to be the first British supermarket to stock domestic fruit. It credited innovation in growing techniques and warmer weather for the early start to the season.
''We are devoted to supporting British growers and are thrilled to be the first supermarket to offer British strawberries to our customers,' saidJulie Ashfield, managing director of buying at Aldi.
"Thanks to advancements in growing techniques employed by our suppliers, there is always buzz and speculation around when and where the first British strawberries will be picked, as it marks the arrival of spring and reminds us Brits that summer is on the horizon.'