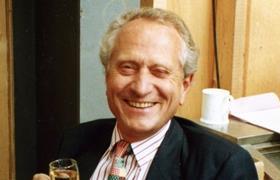 Chef and hospitality industry legend Michel Roux has passed away aged 78.
Roux is widely credited for helping transform the British restaurant and foodservice industry, alongside his brother Albert, beginning with the opening of Le Gavroche in 1967.
Le Gavroche became the first restaurant in Britain to receive three Michelin stars, in 1982. His other restaurant The Waterside Inn, currently boasts three Michelin stars.
His nephew Michel Roux Jr remains the chef patron of Le Gavroche, as well being an active promoter of UK veg, being the face of potato supplier Albert Bartlett in several ad campaigns.
Members of the restaurant and foodservice united in paying tribute to Roux following the news.
Gordon Ramsey said: "We lost an absolute legend of British cuisine today in Michel Roux. He helped to Britain on the culinary map."
London-based fresh produce suppliers, Mash Purveyors, who worked with Roux said: "We are deeply saddened by the news that Michel Roux has passed away. It's been a pleasure to work with such a talented inspirational chef over the years. Our thoughts and love are with the Roux family."
Fellow Michelin-starred chef, and founder of his own fresh produce brand, Pierre Koffman said: 'The Waterside Inn was at the very top of the U.K. culinary industry for many years because of him, and he always knew how to take care of his guests. He was a great host with a very entertaining sense of humour.'
Born in France, Roux moved the UK in the 1960s. One of his most enduring contributions to British foodservice was the founding of the Roux Scholarship, in 1984, which helped develop some of Britain's best contemporary chefs.
A statement from Roux's family said: 'We are grateful to have shared our lives with this extraordinary man and we're so proud of all he's achieved.
'A humble genius, legendary chef, popular author and charismatic teacher, Michel leaves the world reeling in his wake.
'But above all, we will miss his mischievous sense of fun, his huge, bottomless heart and generosity and kindness that knew no bounds. Michel's star will shine forever lighting the way for a generation of chefs to follow.'