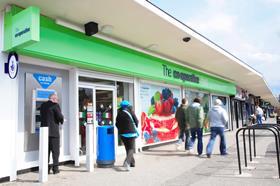 The Co-op has reported a strong set of accounts, pointing out the progress it made in 2019 helped position it to manage the challenges of Covid-19.
The convenience retail chain reported revenue up 7 per cent to £10.9 billion in the 52 weeks to 4 January 2020, driven by a strong performance in food.
Food revenue rose 3 per cent to £7.5bn, with like-for-like sales up 1.9 per cent, while wholesale like-for-like income rose 1.1 per cent. The overall result was tempered by a 3.2 per cent decline in the funeralcare and life planning division.
Food was again the driving force for profitability, with overall underlying profit before tax up 50 per cent to £50 million.
The Co-op spent £439m on capital expenditure during 2019, including £342m on new outlets, refitted stores and supply chain. The business served 133,000 additional households in grocery compared to the previous year, and successfully trialled home delivery.
The wholesale division was boosted by the Nisa acquisition, with added volume as the Co-op sought to increase its buying power and achieve wider distribution for its own-brand products.
Despite the positivity, chief executive Steve Murrells said the Covid-19 situation meant the outlook is uncertain, with additional costs associated with the pandemic expected to run in excess of £200m. This will, however, in part be offset by increased food sales and business relief rates.
'The Co-op made further financial progress through 2019, showing that co-operation is working,'' said Murrells. 'While we didn't know it at the time, that performance set us up well to withstand the impact of the Covid-19 crisis and to enable us to support the communities we operate in.
'Against the backdrop of Covid-19, we will review the strategy we had embedded across our businesses, aligning commercial and community objectives.'