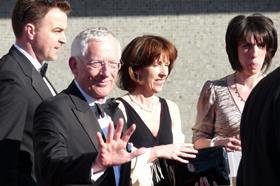 Countdown host and former advisor to Alan Sugar on the Apprentice Nick Hewer has been announced as a new patron of the Fairtrade Foundation.
In a move that the foundation hopes will boost public support for Fairtrade in the UK and benefit producers in the developing world, Hewer will take on the role from October 2018.
He joins other patrons including food writer and TV presenter Allegra McEvedy, the Archbishop of York Dr John Sentamu, and British actor Adjoa Andoh, who have all lent their support to the organisation since 2010.
Fairtrade said that as a long-term champion of Fairtrade, Hewer will bring "widespread reach and appeal" thanks to his TV work on The Apprentice and Countdown.
The Fairtrade Foundation also hopes to benefit from his experience of public relations and business to help drive further public engagement with Fairtrade as it continues to champion trade justice for farmers and workers.
Hewer said: "Buying a Fairtrade product gives you only half the story, it's only when you meet the farmers, and talk to them about their experiences that you fully appreciate the importance of what Fairtrade does.
"I hope that I can help encourage people to continue to carry the ethos of Fairtrade forward in the future and play their part in making fairness in trade the norm rather than the exception."
The presenter's involvement with the organisation dates back several years. In 2014 he travelled with the foundation to St Luciato meet Fairtrade banana farmers and subsequentlyspoke at the Fairtrade Foundation's 20th anniversary conference.
In addition, Hewer has championed many of Fairtrade's public facing annual campaigns such as Fairtrade Fortnight.
He is due to give a speech at Fairtrade's business conferenceentitled 'The Future of Trade: Can it Work for Everyone'on 10 October at The Crystal in London, where his patronage will be announced.
New chair of the Fairtrade board Lord Mark Price will join him to discuss the future of trade and reveal Fairtrade's new ways of working with business.
Michael Gidney, chief executive of the Fairtrade Foundation, said: "We are thrilled that Nick is joining Fairtrade as a patron and we know that his support and passion for trade justice will help open doors for the Fairtrade Foundation and, we hope, fuel commitments to Fairtrade in new areas."