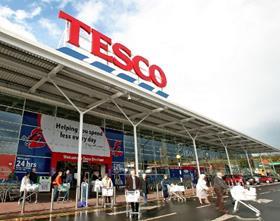 Tesco has reported a strong quarter of sales growth as shoppers continue to buy most of their food at supermarkets during the Covid-19 crisis.
In its first-quarter trading statement Tesco revealed sales of £12.2 billion, an 8.2 per cent like-for-like increase. Online sales rose 48.5 per cent as the supermarket doubled its online capabilities in just five weeks, with capacity increasing from 600,000 to 1.3 million slots per week.
Chief executive Dave Lewis cautioned, however, that the costs of adjusting business to account for the challenges of Covid were significant and only partly offset by business rate relief and increased volume. 'We see the balance as an investment in supporting our customers at a time when they need it most,' he added.
Tesco stepped up its competition with the discounters during the period, launching its 'Aldi Price Match' initiative in March, which Lewis said led to net switching gains from Aldi to Tesco for the first time in over a decade.
A focus on availability and everyday low prices saw promotional levels fall from 28 to 14 per cent, with a significant customer focus upon essential items during the lockdown.
On the wholesale side, sales at Booker rose 6.1 per cent, which includes a contribution from the newly acquired Best Food Logistics.
'Whilst any forecast is inherently uncertain, based on an assumption of a continued easing of lockdown restrictions in the UK, our current expectation is that Retail operating profit in the current year is likely to be at a similar level to 2019/20 on a continuing operations basis,' Lewis concluded.