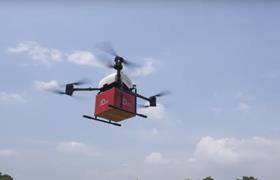 Drones could account for 30 per cent of same-day deliveries by 2040 as unmanned technology and network scale dramatically bring down costs, according to LEK Consulting.
In a report published today (15 March), the group said drone technology has found space to accelerate its growth and development over the last year thanks to the quieter skies of the Covid-19 lockdown.
LEK Consulting said that, while security and privacy concerns still curb the UK drone market, "a mounting body of evidence suggests the technology will be worth billions to the national economy in the near-future".
Its report cites PwC research which suggests that by 2030 in the skies above Britain there will be a highly coordinated hive of more than 76,000 sophisticated drones performing all manner of tasks. "The commerce this supports could provide a shot in the arm worth £21 billion to UK GDP," it said.
LEK Consulting said the exact market share will depend on how transport operators configure their networks and the comparable cost of transporting goods through road-based methods.
"Drones aren't likely to replace traditional trucking but will add to existing logistics systems to avoid congestion," it said.
The transport of goods by remote pilots or autonomous technology has already attracted the attention of the world's biggest companies: Amazon.com Inc and Chinese e-commerce giant JD.com Inc have both discussed the prospect of deploying drones for deliveries on a large scale, while Alphabet Inc's Google this month sought approval to use them to research firefighting, LEK Consulting said.
Drones have the advantage of being able to take off and land vertically, requiring less space than planes or helicopters, the group said in its report. But a number of hurdles remain, including building sufficient scale that it becomes more cost effective than a taxi or van, as well as community acceptance of the aircraft flying above cities and homes, LEK Consulting said.
Commenting on the future of drone deliveries, Ocado Retail CEO Mel Smith told FPJ: "It's a really interesting idea, but I think we are still some years off, as a society, to be able to introduce this method of delivery in a scalable way.
'We take great pride in our incredible team of Ocado drivers, and you just can't replicat the friendly smile and excellent service you get from our drivers," she said.
In separate news, rapid grocery delivery services in the UK capital are gathering pace. German delivery start-up Gorillas – which promises grocery orders within 10 minutes – launched in London last week.
Gorillas is the latest in a flurry of ultra-rapid delivery services offering groceries in less than 15 minutes, fulfilled from distribution sites in residential areas.
Two former Deliveroo executives earlier this month launched Dija, promising groceries within 10 minutes to customers in South Kensington, Fulham and Hackney. The company will serve customers in more than 20 locations by summer, it said, providing access to around three million Londoners.
Meanwhile, Turkish rapid delivery firm Getir announced its arrival in the UK in January, offering a range of groceries to customers in London zones 1 and 2.
At the same time, Ocado's London 'Zoom' online delivery service – introduced in February 2019 - is proving to be "very popular", with peak orders in the evenings and weekends, Ocado Retail CEO tells FPJ.
"Ocado Zoom is our response to growing customer demand to have groceries delivered in under an hour, or for a slot later that same day. Customers can place an order online and select their desired delivery time – our record time for delivery so far was eight minutes, the average time is 40 minutes," she said.
"The service is already proving to be very popular, with peak order times being at the weekend and evenings. The minimum spend on Ocado Zoom is just £15 and there are 10,000 products to choose from (that's twice the amount of the local high-street supermarkets)."
Customers tend to use the service for many different reasons, including top-ups between main shops, when there is a last-minute change of dinner plans, as well as "regulars" who tend to frequently shop for smaller quantities but more often, Smith said.
"We are also trialling the use of electric assisted delivery vehicles for Ocado Zoom – it's a really exciting part of the business and we have plenty of plans for the near future up our sleeves."