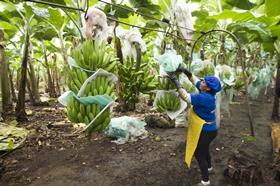 A €15 million Fairtrade fund has helped more than 500,000 farmers and agricultural workers in nearly 60 countries cope with the pandemic, the certification charity has revealed.
Launched a year ago, Fairtrade's Covid Relief and Resilience Fund– a joint effort from Fairtrade International, its member organisations, and government and commercial partners – has delivered direct financial help to small-scale producers hit hard by the pandemic.
Continuing until 2022, it provides a range of short-term relief and long-term recovery measures across Asia, Africa, Latin America and the Caribbean, including personal protective equipment, Covid-19 prevention awareness campaigns and livelihood diversification.
In total, more than 900 producer organisations around the world have already benefited from the fund, with producers in Colombia, Nicaragua, Kenya, Côte d'Ivoire, India and Indonesia receiving the lion share of relief.
"The Covid-19 pandemic shook the very foundations of our global economic and social systems," said Fairrade's global CEO Dr Nyagoy Nyong'o. "But for farming and agricultural communities in vulnerable regions around the world, the impact was especially devastating.
"By rolling out the Covid Relief and Resilience Fund with our key partners, we have been able to ensure that farmers and agricultural workers in the Fairtrade community have the financial and health protections necessary to continue their valuable work, shield themselves from further systemic shocks caused by the pandemic, and build back fairer for a more sustainable and equitable future."
Support for the fund was provided the German Federal Ministry for Development and Cooperation, the German Development Corporation, the Swiss State Secretariat for Economic Affairs, and the British Foreign Commonwealth and Development Office via the Vulnerable Supply Chains Facility, among others.
Along with immediate health and safety measures to prevent the spread of the virus, the fund is helping affected producer organisations to recover economically.
Additional recovery efforts include helping small-scale producers to initiate and carry out programmes to ensure food security; securing and increasing incomes by diversifying crops and markets; addressing human rights risks in supply chains; improving digital technologies as the foundations for a fairer recovery; and building future business resilience.
"It is the poorest of the poor in the developing countries who are hit hardest by the Covid-19 pandemic," saidGermany's federal minister for economic cooperation and development, Dr Gerd Müller.
"Hunger, poverty and unemployment are rising dramatically. We are providing eight million euros to this fund to help smallholder farmers and cooperatives carry on farming even in these times of crisis and, so, provide sufficient food for hundreds of thousands of people.'