Food waste charity FareShare names salad brand Florette as a leading partner of 2022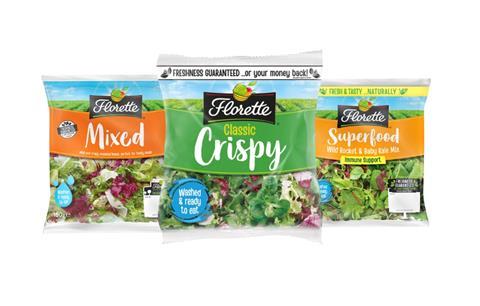 The UK's largest food redistribution charity FareShare has commended the efforts of the UK's number one salad brand, Florette, in tackling food waste by naming the group as one of its Leading Food Partners of 2022.
The Leading Food Partner Logo scheme celebrates businesses who, through their work with FareShare, demonstrate a commitment to tackling food waste while providing nutritious, healthy foods to families at risk of hunger.
The charity said the support provided by companies such as Florette is vital to FareShare, with the impact of the cost-of-living crisis being felt across its network of almost 9,500 charities and community groups, that support vulnerable people across the UK.
"The surplus food that Florette have given us has been a valuable lifeline for those experiencing food insecurity. Fresh produce is often a food that individuals pass on when facing hardship, so the support of fresh produce companies such as Florette is vital in allowing people to still have access to nutritious food. Thank you to Florette for their ongoing support!" said Ben Read, commercial officer at FareShare
Selling 34 million packs annually, Florette's partnership with FareShare sees tonnes of surplus food redistributed to the charities network.
"With the cost-of-living crisis impacting the lives of so many people across the country, it is really important to us that we play a small part in the incredible work of the charity as they support those who are most in need. We will continue to work with FareShare over the coming years in the fight against food poverty," said Martin Purdy, commercial and marketing director at Florette UK.
Giving good-to-eat surplus food to charitable organisations, to get it onto the plates of people in need, is one of many initiatives run by Florette to tackle food waste, with unsuitable produce going to feed livestock or being reintroduced into the soil as a natural fertiliser across Florette's network of local farms.