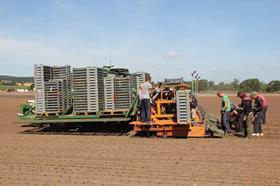 Employment website Totaljobs has reported a record demand for agricultural roles as thousands of displaced workers look for new positions.
The farming and agricultural sector, which has been struggling to recruit the 80,000 seasonal workers it needs during harvest, could be set to benefit from new interest among UK workers, with an 83 per cent increase in applications for farming roles in the last month.
Candidates across all demographics are actively searching for farming roles, according to Totaljobs, with the last week of March seeing significant increases in searches compared to the last week of February. This increase includes 'fruit picker' (338 per cent increase) and 'farm worker' (107 per cent increase). Candidates are also looking more generally, with searches for 'farm' (+130 per cent) and 'agriculture' (+66 per cent) both on the up.
With predictions that up to a million people could lose their job due to Covid-19, Totaljobs said it has seen unprecedented search trends on its website. In March, there were almost 200,000 new applicants on the Totaljobs platform and in the last week of the month there was 30 per cent increase in new users signing up to apply for jobs.
Steve Warnham from Totaljobs said: "The UK farming sector has historically suffered from a shortage of seasonal workers, which has only been further exacerbated by recent tightening of immigration rules and the unavailability of staff due to border closures. However, under these extraordinary circumstances, we are seeing a growing trend of workers who have been temporarily displaced due to Covid-19 who are now looking for roles they can take on in other sectors to keep Britain moving.
"The increased interest in farming and agricultural roles reflects a wider trend that we are seeing across other essential industries including logistics, healthcare and security."
Mark Bridgeman, president of the Country Land & Business Association added: "Tens of thousands of people are coming forward to help farmers feed the nation. This is wonderful news and shows a tremendous 'can do' attitude at these difficult times. Make no mistake, we still need many more to do the same.
"We all know this is a deeply concerning period and we are all determined to do all we can to help the country through it. In order to do so, we must recognise that farmers' supply of labour is in jeopardy. A shortage of 80,000 workers is something we have never seen before. This is why we are calling for a 'Land Army' of workers to support farmers in feeding the country."
Other sectors seeing significant growth in applications include logistics roles such as warehouse operations and driving, which attracted applications from 68,000 new users, equivalent to a third of all new applicants.