Leading fresh produce event takes place on 21 June at AM Fresh's site in Alconbury Weald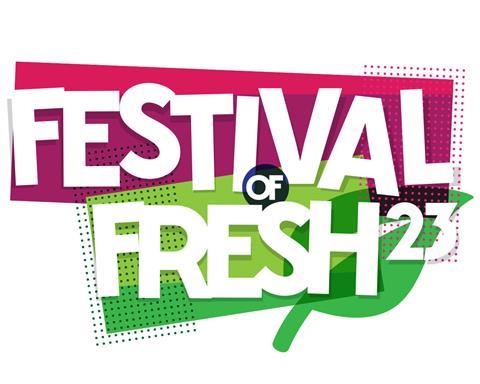 From the major political issues to the state of production, retail and sustainability, Festival of Fresh 2023 has something for everyone.
In a tent packed full of content throughout the day, visitors to Festival of Fresh 2023 can hear from top-level speakers addressing a range of topics of importance to the UK supply chain.
The opening session is focused on Production & Trade and features senior figures from leading suppliers and trade bodies evaluating the current challenging conditions facing growers and what can be done to boost the sector.
As well as hearing from Mark Player, managing director of leading fresh produce supplier AM Fresh UK, the session will also discuss the post-AHDB landscape with representatives of Horticulture Crop Protection Ltd and GB Potatoes.
The conversation will then switch to analysis of the current marketplace, with supermarket buyers looking at the latest trends in retail and outgoing IGD chief executive Susan Barratt giving her view on the grocery scene. Andy Pembroke, managing director of Fresh Direct, will also address the audience on how his company is innovating in the foodservice sector.
Turning to sustainability, two heavyweight panels will discuss ethical labour and food redistribution, before the programme draws to a close with a look at opportunities in organics.
Alongside the main stage of content, a series of demos and presentations on new innovations shaping the future of the industry will take place on a dedicated Tech Stage.
Market Avenue also offers visitors the chance to sample produce and hear about products and services from the likes of Asda, Fresh from Belgium, Westfalia and many more.
Festival of Fresh 2023 takes place on 21 June at the site of AM Fresh in Alconbury Weald, near Peterborough, and is a unique network and learning opportunity that offers delegates the chance to meet and interact in a relaxed, fun environment.
To book your place and secure an early bird discount, click here.