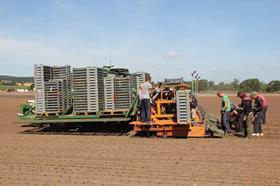 The UK government has appointed the first additional operator of its expanded seasonal agricultural workers (SAWs) pilot scheme.
A government spokesperson told FPJ today that Defra and the Home Office were pleased to confirm that AG Recruitment and Management had become a licensed sponsor under the T5 (Temporary Worker) Seasonal Worker immigration route, effective 23 April 2021.
AG Recruitment and Management – a Kent-based specialist in agricultural recruitment – joins current operators Concordia Ltd and Pro-Force Ltd as operators of the extended 2021 pilot scheme, which was expanded from 10,000 to 30,000 permits in December.
Commenting on the announcement, the government spokesperson said: "Defra and the Home Office understand how important operators and seasonal workers are to bringing in the harvest this year, and we will continue to announce new operators as their due diligence is completed and as per the indicative timetable."
The spokesperson added that AG Recruitment and Management was selected according to the information set out in the Defra's selection of pilot operators section on its 'Seasonal Workers Pilot request for information' webpage.
According to AG Recruitment and Management's website, the company has supplied labour to more than 120 farms across the UK and has multiple offices across the UK, Bulgaria, Romania and Ukraine.