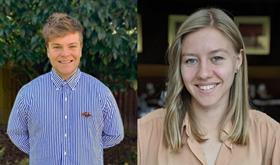 Iceland has taken on its first trainees from graduate training programme MDS.
The frozen food specialist is seeing rapid growth in its online shopping segment, and has invested in thousands of new roles across the business to meet demand. As a new MDS member business, it joins a network of other corporates in the fresh produce supply chain including Branston, British Sugar, G's Fresh and the Langmead Group.
Two of the first three trainees - Oliver Gilding and Harry Weston - have been seconded to commercial roles within the business, and Danielle Grootes is working in new product development. MDS trainees are university graduates from a variety of disciplines including engineering, agriculture and food science, selected by MDS for their management potential.
Iceland HR director Helen Tindle said that the business was aware of the success of MDS trainees before becoming a member. "We are proud to have MDS alumni among our senior leadership team and have seen the success they have brought to the business,' she explained. 'We joined MDS as getting new talent into the food industry and retail is vital if we are to continue to grow our own future leaders.
'MDS is the perfect solution to remove cost and risk from the typical route into graduate recruitment schemes. We are excited to start taking placements and are really pleased to be in a position to work with MDS to help develop trainees from the beginning of their journey."
Sapphira Waterson, MDS chief operation officer, said: "Working with Iceland as it expands its business in new directions is exciting and a great opportunity for our trainees. We are looking forward to developing the roles and the trainees with Helen and the team."
MDS trainees are placed in four different six-month secondments over two years in up to four different member companies, taking on significant responsibility from the start. Secondments are combined with formal off-the-job training, coaching and mentoring, and results in the highly regarded L5 Leadership and Management apprenticeship qualification.
Over 97 per cent of MDS trainees are recruited into the fresh produce industry on completion of their training, the majority into member businesses.