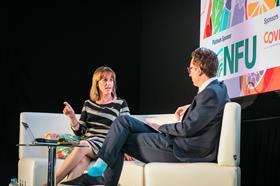 More fantastic speakers have been unveiled for the FPJ Live line-up this year, which will be fully online for the first time ever.
With no need to travel to this year's FPJ Live, there's no excuse to miss the event, which will be broadcast online for free. All you need to do to attend is register here.
Joining FPJ Live on the virtual stage is Borough Market's Darren Henaghan to discuss the new landscape of the UK's food industry from wholesale to foodservice, with foodservice expert Peter Backman also joining to give us the lowdown on how the sector might bounce back from coronavirus.
Natures Way Foods' Ciara Whitehead also joins the line-up to explore the big potential for prepared produce and salads.
Technological trailblazers Infarm and Optimal Labs will give us an insight into their agri-tech developments, while wholesaler and app developer, Will Hill, will discuss his software aiming to revolutionise the way traders and consumers buy produce.
In another first, this year FPJ Live will also be joined by the National Fruit Show, with a dedicated virtual stage to run alongside the programme, putting the best of British produce on show.
In the wake of the coronavirus crisis' monumental impact on the fresh produce industry, there is no shortage of talking points for this year's event, which is going fully online for the first time ever.
Discussing the impact of the coronavirus crisis on the foodservice industry and the amazing efforts by suppliers to adapt their businesses isTony Reynolds, managing director of Reynolds Catering Supplies, with fresh produce stalwart, health campaigner and BBC presenterChris Bavin.
Fresh Produce Consortium CEONigel Jenneywill also update us on the key issues surrounding Brexit, with British Growers Association chief executiveJack Wardand AHDB chairNicholas Saphir, also joining us to tackle the big questions facing British businesses at the moment.
In production and technology, FPJ Live is excited to discuss the ground-breaking endeavour byHandsfree Hectareto develop a fully automated harvest, while berry growersBeeswax Dyson, and prominent veg growerGuy Poskittwill also join the virtual stage.
Kantar'sJoe Shaw Robertsand theEngland Marketingteam will also offer vital insights into how the retail market has changed and consumer behaviours altered by the crisis, as well the huge opportunities for the healthiest industry in town.
From New Zealand, fresh produce marketing, brand and strategy expertLisa Corkwill also share her insights on building a successful fresh produce brand and business.