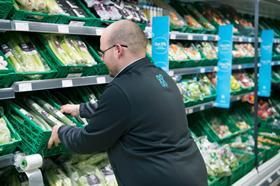 Co-op's new store design in Treorchy, Wales, "puts a focus on fresh products"as well as running on 100 per cent renewable energy.
Located in Station Road, the 9,000 sq. ft. store – which supports 30 local jobs and re-opened last Thursday, and could provide the template for a greener retail experience, also featuring more vegan and free-from products, as well as convenience goods.
As part of launch day celebrations theCo-opand its construction partners will also be carrying out thousands of pounds worth of work to the nearby Treorchy Primary School – renovating an outdoor area with new fencing, artificial turf to enable children to play out-of-doors all year round and, a new roof for the pagoda.
Daryl Hodges,Co-op store manager, said:"We are delighted to have the opportunity to make such a significant investment in Treorchy - it has a great look and range and we are receiving really positive feedback.
'We are looking forward to welcoming customers old and new into their new-lookCo-op. Our aim is for the store to operate at the heart of local life, a community hub making a difference locally."
Erin O'Mahony,Co-opregional manager, added:"Co-opis committed to making a difference and creating value in its communities – whether that is through sustaining local jobs, giving back to local causes or, our support for Welsh suppliers and agriculture. It is all about delivering what our members and customers want, need and care about, conveniently.
"The investment in Treorchy is a great way forCo-opto mark its 175th anniversary year!"