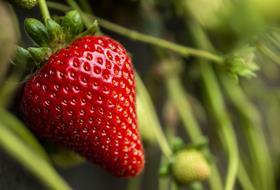 Soft fruits enjoyed a January bounce at the start of 2020 as shoppers look to get their health back on track following Christmas.
According to Waitrose, berry sales were up by four per cent "as many customers opt for healthier options in January".
The supermarket said sales in cucumbers also rose by four per cent, and lettuce by six per cent.
The figures follow wider "Veganuary" trends, with more and more people attempting to ditch meat in the first month of the year.
Waitrose said its vegan sales were up 13 per cent as Veganuary enters its second full week. Low and no alcohol drinks were also popular, up 27 per cent as cusrtomers also attempt to cut back on alcohol, a period sometimes tagged as "Dry January".
The supermarket said it would be helping customers continue their New Year health kick this week by revealing the best products and recipes to maintain their gut health.
In December Waitrose increased the number of 'DNA pop-up shops' in its stores, with customers invited to try out the technology by DnaNudge, which uses an individual's DNA to guide them to the most appropriate products in the supermarket.
Users can wear a wristband containing their DNA information to scan over 500,000 food and drink barcodes, which will give a green light for food that's a good match for the shopper, and red if it isn't.