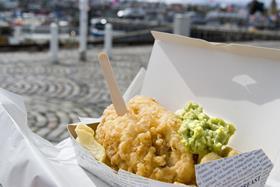 Some 62 fish and chip shops have been shortlisted for the 'Oscars of the fish frying industry' – the 2017 National Fish & Chip Awards.
The top award at the event will honour the best fish and chip shop in the UK, with industry experts having appraised the contenders across a variety of judging criteria. Further mystery shopper-style judging will take place over the coming weeks to establish a top 20.
The new winner will be named at a ceremony in London in January 2017, and will take over from current champions Simpsons Fish & Chips in Cheltenham.
"The Independent Takeaway Fish and Chip Shop of the Year Award is one of the highest honours a fish and chip business can receive," said Marcus Coleman, chief executive at industry body Seafish. "Many of our past winners and finalists have gone on to reap substantial benefits, including increased shop footfall and turnover and media fame through overseas industry study trips; some have even launched their own branded products.
"Receiving this award is the pinnacle of many friers' careers, but only one can take home the title. I wish all contenders the best of luck as they move onto the next stage of judging and look forward to seeing who comes out on top."