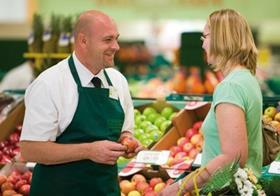 Morrisons is slashing the price of 400 of its most popular food items, including fruit and vegetables.
The supermarket said it it is making the move, which will see prices dropped by an average of 23 per cent, to ensure good food is affordable for families at a time budgets are under pressure.Morrisons has already cut the price of over 800 popular lines since last year.
The newly announced cuts will span Morrisons' fresh food, store cupboard staples and cleaning, with products including fruit and vegetables, meat and poultry, bread and cornflakes, rice and pasta, plus bleach, cleaning fluid and toilet rolls.
Discounts include a round lettuce, down 20p to 45p; a 2.5kg bag of baking potatoes, 6p off at £1.39; and a six-pack of Granny Smith apples, 41p off at £1.19.
David Potts, Morrisons' chief executive, said: "It's been a tough year for many families who find themselves stretched. To play our full part in feeding the nation, we're cutting prices and holding them low to make our food more affordable for everyone. These are not short-term promotions, these are price cuts that are here to stay."