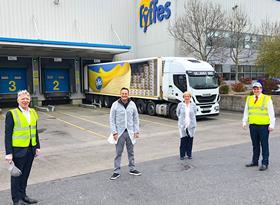 Fyffes has welcomed the Taoiseach Leo Varadkar to its site on the outskirts of Dublin to discuss fruit supply in the face of Covid-19.
During the visit to its banana ripening facility in Swords, North County Dublin, the Irish PM spoke to company officials about maintaining fresh fruit supply lines during the crisis.
Fyffes chairman David McCann said his company "has sufficient fresh fruit stocks on hand, and in the pipeline, to ensure that Irish consumers can continue to enjoy a healthy diet at this time".
He also praised the government, and its team of medical advisors and health service workers, for the way they have handled the coronavirus crisis and the reassurance they have given the Irish people.
As it stands, Ireland has recorded just over 1,800 cases of coronavirus and 19 deaths, withthe country's chief medical officer Dr Tony Holohan warning that the country is "only at the beginning of the curve."