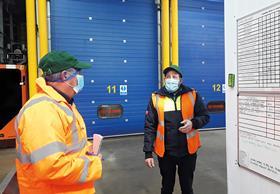 Greenyard Fresh UK has been awarded the Lean Gold validation from S A Partners recognising organisational transformation and continuous improvement in the business.
The fresh produce supplier has been working with S A Partners, which helps companies become more effective and efficient, for the past five years.
The link with S A Partners started with an initiative from one of Greenyard's core customers and led to previous 'continuous improvement' awards.
The business changes have supported a 'customer first' service throughout the supply chain, helping Greenyard's team eliminate waste, mitigate risk and take the utmost care of the fresh produce they process.
Jeff Williams, account director of S A Partners conducted the final validation saying: "It has been an absolute pleasure to work with such a dedicated team of people. The improvement journey hasn't always been easy, however the passion and motivation of the team has been inspirational to observe.
"Lean Gold is one of our highest accolades and I am incredibly proud to present it to Greenyard Fresh UK and look forward to supporting them on their Lean Platinum (Enterprise Excellence) journey."
During the same period Greenyard Fresh UK invested over £2 million in its ripening, warehousing and packing facilities. The state-of-the-art ripening facilities enable the team to ripen right down to case level with multiple varieties in the same chamber.
Bill Mathieson, managing director of Greenyard Fresh said: "Culturally and operationally we have been on a journey to change the very DNA of the business. Working with S A Partners has supported us to unlock the business potential and make a positive impact to every aspect of the way we work.
"It's so important to have a modern packhouse facility and be lean, adaptable and transparent in everything we do. The focus of the team has been on embedding a customer first mindset and approach to ensure with our fantastic growers to deliver them high quality produce. This is a tremendous milestone and the good news is we believe we have further opportunities to improve."