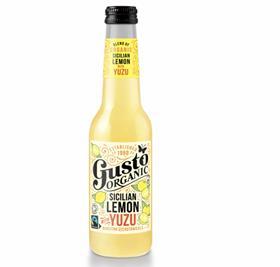 A new organic Sicilian lemon and yuzu drink has been developed by Gusto, with the manufacturer proclaiming it the "world's finest lemonade".
The organic specialist's new drink is produced in the UK and features Sicilian lemon juice with fresh yuzu juice and cold-pressed yuzu peel. It is then sweetened with a blend of Fairtrade agave nectar, Fairtrade apple and organic grape.
Yuzu is a wild citrus originating in China, and is packed with vitamin C, according to the supplier. It is free from refined sugar, suitable for vegans and bottled in Devon with spring water from the Exmoor hills.
The new drink is available in a 275ml bottle and has gone on sale in Ocado, Holland & Barrett, Fortnum & Mason, Waitrose Farm Shop, Sourced Market, Bayley & Sage and premium and natural trade retailers across the UK, RRP £2.05.
"Our Sicilian Lemon with yuzu is a real labour of love," said Will Fugard, Gusto Organic chief executive. "We spent 18 months scouring the farms of Japan and Korea for a source of fresh organic yuzu juice and cold-pressed yuzu oil - one that really sang to the flavour and unique scent of this incredible lemon - and then we had a breakthrough.
'A farmer in Spain had 5,000 yuzu trees and the most incredible fresh juice, alive with yuzu goodness. As the stars aligned our Lemon Yuzu was born; we like to think of it as the world's finest lemonade. We are excited to get this to market for everyone to experience".