Leading figures from Tesco, AMFRESH, Fresh Direct and S&A Produce are among top-class speaker line-up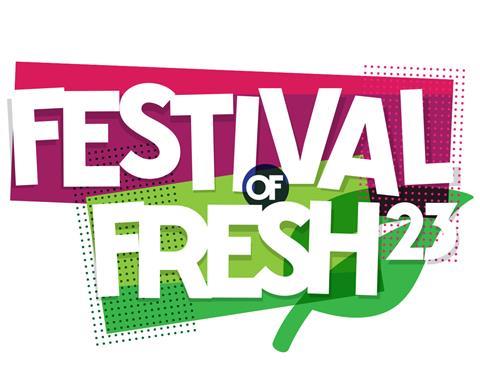 From industry leaders, experts and analysts to the bosses of some of Britain's leading suppliers and supermarkets, Festival of Fresh 2023 has something for everyone.
There's still time to register your place at FPJ's flagship annual conference and networking event, which takes place this year at AMFRESH's Alconbury Weald site near Peterborough on 21 June.
The event offers a heavyweight line-up of speakers, covering the biggest issues facing the industry and fresh produce businesses today.
The big topics
Kicking things off, an industry leaders panel featuring NFU Horticulture Board chair Martin Emmett, British Growers chief executive Jack Ward and British Berry Growers chairman Nick Marston will address the major talking points in what's been a year of extraordinary challenge for suppliers.
Mark Player, UK managing director and Sam Franklin, technical director at Britain's largest fresh produce business AMFRESH, will then tell delegates about the latest initiatives driving the company's extaordinary recent growth.
S&A Produce's group MD Peter Judge will discuss the berry supplier's success as an independent operator, before the session wraps up with a discussion about the post-AHDB landscape with GB Potatoes chair Mark Taylor and Jack Ward, representing Horticulture Crop Development Ltd.
The modern world of retail and foodservice
Following a coffee break, the spotlight turns to retail, foodservice and marketing. Kantar's Joe Shaw Roberts will outline the current state of play in terms of UK fresh produce sales, before Tesco's produce category director Tom Mackintosh will give the view from his supermarket.
Outgoing IGD chief executive and former Natures Way Foods boss Susan Barratt will give her take on the latest retail trends and Andy Pembroke, managing director at Fresh Direct UK will outline how the business is getting ahead amid the many challenges of the modern foodservice sector.
Rounding up the morning session will be a fascinating look at marketing with AMFRESH's Carolina Palomo.
Sustainable future
Following a lunch and networking break, sustainability becomes the name of the game, with the Association of Labour Providers' David Camp talking ethical labour sourcing.
A discussion on surplus produce and food redistribution features City Harvest's Sarah Calcutt, Ali Gourley from FareShare and Mark Game from The Bread and Butter Thing.
Rounding off the day, Alex Cullen, commercial and marketing director at the Soil Association, discusses the latest state of play in the organic sector and the opportunities to grow organic consumption in future.
Innovation in focus
Throughout the day, a series of presentations on new industry tools and technology will take place in the Innovation Tent.
The lineup includes Redzone Software, Softripe, Farm Carbon Toolkit, Fischer Farms, Fresh4Cast and Olympus Automation Limited.
Market Avenue
Away from the conference programme, delegates have the chance to visit a fascinating range of exhibitors on Market Avenue, where they can sample produce and hear about new products and services.
With food, drink, entertainment and ample networking opportunities, Festival of Fresh 2023 is a must-attend industry event in a relaxed, informal setting. To find out more and book your place, visit the Festival of Fresh website.