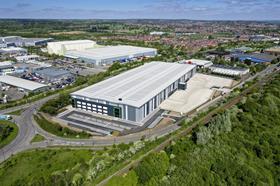 International meal kit provider HelloFresh has announced it will set up its second UK production facility in Nuneaton, Warwickshire.
According toBusiness Live,the company, which delivers meal kits containing fresh ingredients, has leased over 230,000sq ft of logistics space atthe Nuneaton 230 development off the A444 at Bermuda Park.
The facility will have frozen, chilled and ambient storage, and flexible warehouse space to suit the production and packing methods used by HelloFresh.
The site will receive produce and packaging from local and national suppliers, and the meal kits will be assembled on site for delivery nationwide.
HelloFresh recorded a strong second quarter in 2020, with its number of orders and revenue more than doubling year on year. The group's quarterly revenue grew 123 per cent compared to the same period in 2019, reaching an all-time high of €972.1 million, while order numbers rose to 18.1 million – anincrease of 103 per cent.
In 2019, HelloFresh delivered more than 280 million meals worldwide and reached more than four million customers in the first quarter of 2020. It now operates in 14 countries, most recently expanding to Sweden and Denmark.