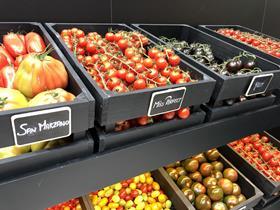 Hoogstraten is striving to boost its tomato supply to the UK by championing the flavour of its fruit and the post-Brexit trade advantage of Belgium's proximity to Britain.
In September the Belgian cooperative launched itsfirst trade-focused strawberry campaign in the UK,and marketing manager Luc Bruneel told FPJ that Hoogstraten was also targeting retail and wholesale export growth in tomatoes, its other main product.
"It's important to explain to customers that despite Brexit, we are dedicated to the UK market and actually want to increase supply, in both strawberries and tomatoes," said Bruneel.
Speaking to FPJ at Fruit Attraction in Madrid, he added that Belgium's close proximity to the UK offered the opportunity to grow its presence in the British market. "It's only 30 miles across the channel to Britain, and given all the trade and supply chain issues caused by Brexit and Covid, this is an important advantage for Belgian producers like us. It gives us an advantage in terms of freshness and shelf life.'
Rather than trying to replace UK imports from the likes of the Netherlands, Spain and Morocco, Bruneel insisted that Hoogstraten was trying to grow Britain's tomato category. It's all about inspiring consumers, offering great flavour, and finding new consumption occasions, he said.
Healthy snacking is a big opportunity to increase consumption in Britain, the Belgian believes, emphasising that "for each type of tomato we grow, there's another consumption occasion".
However, work remains to educate UK consumers about 'coloured' varieties (i.e. yellow, orange, black etc.) since there is an assumption that red varieties have better flavour.
"The tomato aisle in Britain is very red," said Bruneel. "There is a belief that red equals better ripeness and taste, but that's not necessarily true.

'It's important to show consumers how much variety there is in the tomato category, and I think retailers can improve the efficiency of their shelves by offering more high-margin types. Purchase price shouldn't always be the main driver; if the taste isn't right, you won't get enough repeat purchases."