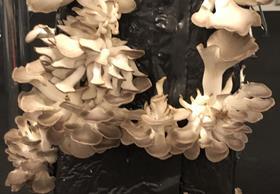 Jackfruit and grey oyster mushrooms have been tipped as products to watch in foodservice as demand for plant-based meat alternatives grows.
Speaking at the London Produce Show's Foodservice Forum in a session called 'The next big thing', Brian Rajasinghe of jackfruit supplier MTJ said there are big opportunities to boost UK consumption of the fruit, which is still relatively unknown despite its growing popularity as a meat substitute.
The fruit's nutritional benefits and versatility make it a promising product, Rajasinghe believes, but he stressed there are several hurdles to overcome if the fruit is to become widely popular in the UK.
Importantly, suppliers and food manufacturers must find good ways of extracting the fruit from its hard, knobbly exterior that make it convenient for consumers while maximising shelf life and preserving the original taste and colour.
In addition, he emphasised that the fruit needs to become more widely available in Britain since at present it is mainly used as a pulled pork substitute in foodservice or found in the world foods aisle of supermarkets.
There is no shortage of supply potential, however, and while the fruit is used extensively in Vietnam, Bangladesh, and other countries where it is produced, 75 per cent of jackfruit grown in India goes to waste.
In India jackfruit has a reputation as a 'poor man's fruit' and many leave it to rot instead of preserving it for food. However, the product has a wide variety of potential uses, according toRajasinghe, including tacos, burgers, fries, ice cream, jams, smoothies, cocktails and as a nutritional supplement.
Another product with a bright future is the oyster mushroom, with two types – the grey oyster and the king oyster – expected to feature increasingly on restaurant menus.
Andy Benn, head of food development at Fresh Direct, said he was providing chefs with inspiration in how to use the products, namely pulled (like pork), seasoned and fried (like a steak), or sliced and griddled (like a scallop).
Given their high protein content and meaty texture, Benn believes the mushrooms fit well with the trend for flexitarianism.
Although the norm tends to be for UK chefs to 'pull' in produce rather than suppliers 'pushing' it, Oliver Cock, the former managing director of foodservice supplier Compass, said there is definitely a role for suppliers providing more guidance on how their produce can be used.
Other products earmarked for foodservice growth were edible flowers, and microgreens such as micro mint and minted pea shoots, as showcased by Evesham producer Westlands.