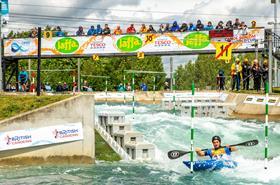 British Canoeing has unveiled citrus brand Jaffa as its Official Fruit Partner until 31 December 2021.
The 18-month deal is a continuation of the commercial partnership announced last year, when Jaffa was appointed as principal partner for the 2019 ICF Canoe Slalom World Cup and 2020 ECA Canoe Slalom European Championships.
David Joy, chief executive at British Canoeing, said: "I am delighted that British Canoeing is continuing our relationship with Jaffa as Official Fruit Partner. Jaffa has been a great brand for us to work with and we thoroughly enjoyed delivering an excellent Slalom World Cup with their support last year.
"I very much look forward to continuing to enhance our relationship with Jaffa, and build on our success to develop further opportunities with one of the country's most loved retail brands."
Rachel Hancox, representative at Jaffa, added: "Following the success of Jaffa's title sponsorship of the 2019 ICF Canoe Slalom World Cup, we are delighted to continue as British Canoeing's Official Fruit Partner for 2020 and 2021.
"We have thoroughly enjoyed getting to know the paddling community through this partnership over the past 18 months and will continue to offer members discounts on our products.
"Despite the current uncertainty surrounding the format of sporting events over the next 12 months, we are looking forward to working closely with British Canoeing to find fun and creative ways to continue to promote canoeing and the importance of healthy and active lifestyles."