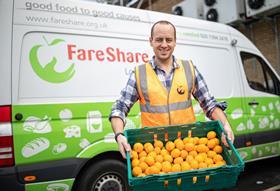 Jaffa has announced a new year-long partnership with food redistribution charity FareShare.
The soft-citrus specialist said that through the duration of the partnership it will be supporting FareShare to distribute the equivalent of 200,000 meals to vulnerable people across the UK.
The initial 12-month agreement will fund the redistribution of vital food supplies, offering a boost to those facing hardship, especially within the current economic environment. The meals will be supplied across FareShare's network of 11,000 charities and community groups.
Further plans will see a year-round calendar of campaigns to raise awareness of FareShare's work and Jaffa's ongoing support of the initiative, and to highlight the move special Jaffa packs will be visible across Tesco stores nationwide.
Jaffa spokesperson Rachel Hancox said: "Jaffa knows the importance of having access to healthy foods, as well as the challenges faced in the fresh supply chain which can lead to surplus food. That is where FareShare come in, enabling the people most in need to have access to what otherwise could have been disposed of.
'We have been aware of the charity's amazing work in food redistribution for a while and want to help support their mission to tackle food waste and fight hunger in the UK. FareShare have achieved so much growth in the past few months. Through our involvement, we hope to help them grow further, leading to less food being wasted, and in turn, access to more nutritious food to those in need'.
Lindsay Boswell, FareShare chief executive, added: 'Despite having more than doubled the amount of food we distribute to vulnerable people each week, 90 per cent of the charities we support tell us that the need for food will either remain the same as crisis levels or increase over the coming weeks and months.
"This partnership with Jaffa comes at a crucial time and we are grateful for their support which will help us continue getting vital food supplies to the communities who need it most."