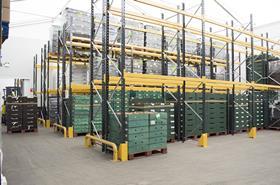 Foodservice supplier JDM Food Group has invested over £4 million in a new despatch, training and production facility at its Lincolnshire base.
The two-year project is nearing completion following a final £350,000 storage expansion at its factory in Bicker, which includes two temperature-controlled storage areas and has doubled the company's storage capacity.
Despatch manager Mark Cooley said: "The company has grown significantly over recent years, taking on more customers and, therefore, processing and manufacturing more output. As production expands, so does the need for a larger despatch and storage area, which is why we decided to invest in increasing the amount of space dedicated to storing all our products."
"Not only will the investment in our facilities give us larger, more state-of-the-art spaces to manufacture, process and store all of our products, but they will also make us more efficient and allow for future growth, meaning the possibility of new jobs being created as a result."
JDM Food Group has grown 109 per cent and added 80 jobs over the past three years, the company said.
Established in 2000 to supply garlic, JDM is now one of the leading suppliers of garlic, ginger, sweet potatoes and butternut squash to a range of food manufacturing businesses.