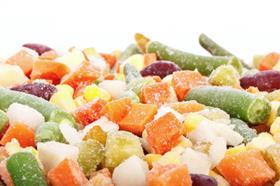 German frozen fruit and vegetable specialist Horns has been acquired by British privately owned trader Lamex Food Group.
Horns was established in 1990 and sells frozen fruit and veg from global suppliers into the German food processing sector. The business has worked in partnership with Lamex for the past decade.
The new business will be known at Lamex Horns and will be headed by Kristian Horns, who has been with Horns GmbH since 2009 and managing director since 2014.
Lamex said the acquisition of the Horns business would enable it to expand further into the German food processing market, supplying frozen produce from its own network of certified suppliers. These include the processing facilities of Alterra in Greece, which handles yellow fruits and vegetables, and Mondi Lamex in Serbia, which trades raspberries, blackberries and sour cherries. Lamex has significant investments in both companies.
Lamex Food Group is headquartered in Hertfordshire, England, but has 21 offices in 14 countries and annual sales of £1.2 billion. The group specialises in trading in the core commodities of honey, fruit and vegetables, meat and poultry, juice and purees, as well as dairy for the global food manufacturing and foodservice industries.
M&A activity slowing, but distressed acquisitions likely
The acquisition comes as a new report from financial adviser Grant Thornton shows that deal activity in the food and beverage sector has slowed in the first quarter of 2020.
The firm's latest food and beverage insights report states that 44 transactions were announced in the first quarter of 2020, compared to 49 in the previous quarter and 52 deals in the first quarter of 2019 – a 10 and 15 per cent fall respectively.
Total disclosed deal value for Q1 2020 was £298.8 million across 18 deals with publicly disclosed values, a major fall on Q4 2019's total disclosed value of £3.8bn, although that figure included the £3bn Froneri/Nestlé mega deal.
Grant Thornton believes that there will likely be an increase in the level of distressed M&A activity throughout 2020 as a consequence of the impact of Covid-19.
The firm's head of food and beverage, Trefor Griffith, said: "While a decline in deal volume was inevitable in the first quarter of 2020, the decrease is perhaps less drastic than anticipated, since the majority of the period was operating in near enough normal circumstances. The arrival of Covid-19 has impacted M&A in all sectors and, in the food and beverage sector, the majority of processes are now on hold. Any processes at or before the due-diligence stage have mostly been paused, and those at an earlier stage or about to kick off have been delayed.
"The pandemic has resulted, almost overnight, in a profound change in the way the nation buys their food, with an immediate shutdown in the ability to eat out. There can be no doubt that the remaining quarters of 2020 will bear the full impact of these unparalleled times, and we're likely to see a slowdown in M&A. The majority of processes are on hold, public companies are more likely to focus on cash conservation (as well as waiting for their share prices to mend) and private equity houses will be more focused on aiding their portfolio companies.
"While M&A activity for 2020 is going to reduce, we are expecting that a number of deals now on hold will likely resume once the situation stabilises and come to market in late 2020 or early 2021. This, added to a higher level of distressed activity and potential clarity around trade agreements post Brexit, could in turn lead to a surge in sector M&A next year."