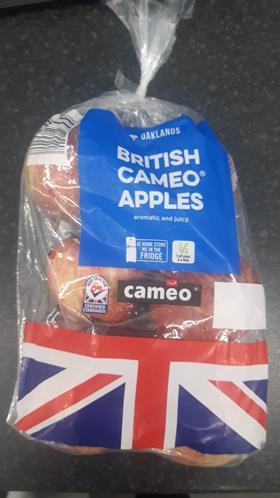 Lidl GB has begun selling Cameo apples under the brand name amid rising consumer awareness of the club variety.
The move follows a successful trial at the discounter last season, with the variety previously sold as 'British Red Dessert apples', both loose and in packs.
The variety is now available at Lidl in a branded polybag containing five to seven apples, with the Cameo Club calling it an important development for the variety's growers.
Demand for the apple has been boosted by a Facebook advertising campaign, now in its third season. Its objective has been to increase consumer awareness of the variety so that shoppers look for Cameo by name.
Cameo emphasised that to support the increasing demand, "it has become equally important that consumers can find Cameo easily through clear branding on retail shelves".
Adrian Barlow, UK marketing consultant for the Cameo Club, said: "The volume of UK Cameo sold by Lidl GB has increased considerably in recent years and they are now one of the variety's leading retailers.
"The stronger branding of Cameo in retail stores will be vital in selling the increased production which we know will arise in future years due to the increased plantings by growers.
"This development is further evidence of the support from Lidl GB for Cameo, as well as British top fruit production in general."