Salad created by low-waste chef Max La Manna combines repurposed surplus vegetables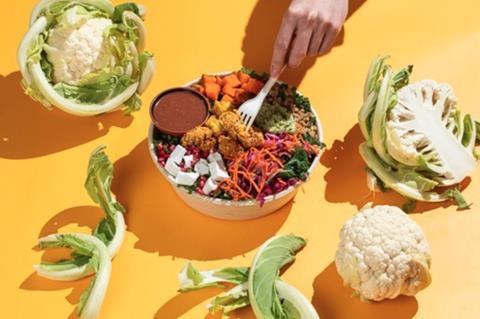 London salad bar The Salad Project has teamed up with low-waste chef and author Max La Manna to launch a zero-waste vegan salad for Veganuary.
For three months from 3 January 'The Zero-Waste Salad' is available for £10.75 at The Salad Project's Bank and Spitalfields branches, as well as for delivery exclusively via UberEats.
The salad combines repurposed surplus vegetables and other ingredients from the Salad Project, including kale, pearl barley, sweet potato, pomegranate seeds, shredded slaw, 'no-waste cauli leaf pesto', vegan feta, and spicy popcorn cauliflower, dressed with a pomegranate vinaigrette.
The Salad Project is a low-waste dining concept specialising in healthy nutritious salads. The business was founded by Florian de Chezelles and James Dare in 2019 using their combined experience in the hospitality industry to create a sustainable, low-waste salad bar.
La Manna said: "The Zero-Waste Salad we've created with The Salad Project is a great-tasting vegan option, and the variety of fresh veg we've chosen makes it full of vitamins and minerals, perfect for that post-Christmas health kick.
"Creating a zero-waste dish is something the Salad Project team and I are hugely passionate about, and we hope the dish will help raise awareness around the importance of reducing food waste whilst also supporting a vital charity."
£1 of every salad sold over the period will be donated to The Salad Project's partner charity Bite Back 2030, founded by chef Jamie Oliver. It is a youth-led movement working towards a world where all young people have the opportunity to be healthy, no matter where they live.
The charity works to raise awareness around healthy and nutritious eating for children, as well as campaigning for extending free school meals for children in poverty across the UK.
La Manna is also hosting an intimate dinner party and salad demo on 19 January at Salad Project Bank at 6.30pm. For your chance to win a space at the table, visit Salad Project's Instagram page where you can tag a friend to attend with.