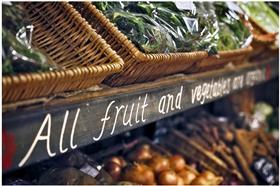 Organic produce has suffered a drop in market value as low supermarket pricing continues to hamper the category.
Sales of organic fresh produce fell 2.4 per cent in 2019, according to Soil Association Certification's Organic Market Report, with 'unsustainably low prices in non-organic' blamed for the drop. Volumes, at least, remained steady.
Fresh produce was the black mark is what was otherwise a positive year for the UK organic food and drink sector, with sales rising 4.5 per cent to £2.5 billion.
All channels experienced growth, including supermarkets (+2.5 per cent), home delivery and online (+11.2 per cent), foodservice (+8.3 per cent) and independent retail (+6.5 per cent), as demand for organic generally continuing to increase across the UK.
Supermarkets' overall share of the UK's organic market fell one per cent to 64.6 per cent as other channels ate into their dominance, notably online and home delivery, which rose 11.2 per cent as increasing numbers of shoppers turned to the internet to choose from the wider ranges of organic products on offer.
Searches on the Soil Association website for "organic box scheme" increased 174 per cent year on year, the report said. 2019 also saw increased demand for local food and the report highlights the success of businesses that were able to meet this demand through vegetable and meat box schemes and farmgate sales.
Nathan Richards, farmer of Troed y Rhiw a 23-acre farm in Wales, said: "We grow over 40 types of fruit and vegetables, selling direct to a hyper-local customer base through our box scheme and local farmers market. Despite market and Brexit uncertainty, we have seen strong growth in customer demand for organic, locally produced food with our box scheme numbers rising rapidly over the last year."
The report highlights a growing number of farmers converting to organic, with Soil Association Certification data indicating a 12 per cent increase in land-in-conversion to organic in 2019.
More organic vineyards came through conversion in what was a strong year for organic wine, with sales increasing 47 per cent, as supermarkets responded to high demand from shoppers with more shelf space and broader listings.
Overall, organic foodservice saw an 8.3 per cent rise in sales, thanks in part to more UK organic milk and snacks on offer at high street chains, including Pret a Manger, McDonald's and Wetherspoons.
Sophie Kirk, business development manager at Soil Association Certification, said: "2020 is a year of opportunity for organic farmers and growers. With growth happening across multiple routes to market, and public interest in sustainable farming on the rise as we exit the European Union and the Agriculture Bill goes through Parliament, there are huge opportunities for farmers looking to diversify their businesses to meet growing consumer trends for British, sustainable food and drink.'