NIAB and FP Matthews unveil early-season Victoria-like plum at Fruit Focus
A new early-season UK plum variety has been launched into the market by NIAB and Frank P Matthews.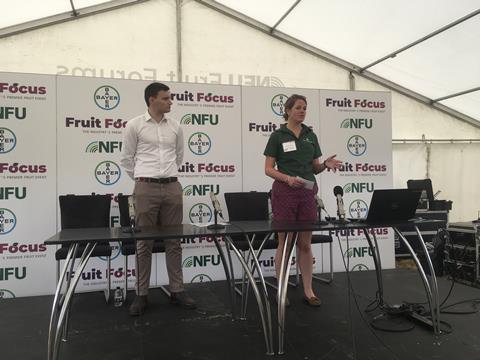 Malling Elizabeth is described as a Victoria-like fruit, firm yet sweet and juicy, and cropping six to seven weeks earlier than Victoria in early July.
The new plum – named in honour of The Queen in her Jubilee year – has been trialled over a number of years at East Malling, and has proven to be a consistent cropper with an abundance of fruit produced. The variety has also been trialled in NIAB EMR's Plum Demonstration Centre since 2015.
Speaking at Fruit Focus in Kent this week, NIAB business development manager Will Roberts said that Malling Elizabeth both meets consumer demand for a Victoria-like fruit in terms of its eating qualities, and a product that will yield for growers.
"Our new variety ticks these boxes," he said. "We are very confident it's going to be a variety of choice for both the commercial grower and the home garden market. We are working with FP Matthews as our partner in the UK to bring it to market. We expect plant supply will be challenging in the early years as we keep up with demand, but that's a good problem to have."
FP Matthews director Stephanie James added that Malling Elizabeth fulfils a clear gap in the market. "Also It genuinely is a really productive and tasty variety," she continued. "We already supply trial trees and larger plantings and there are trees available for planting this winter, both in trial quantities or larger plantings. We are also budding shortly for trees that will be available in 2023/24."