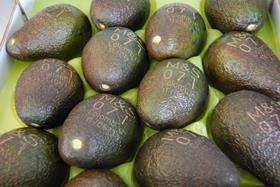 Marks and Spencer has launched avocados with laser labels in a move it says will take 10 tonnes of labels and five tonnes of glue out of the supply chain.
Supplied by Mack, the avocados will be lasered with the M&S logo, best before date, country of origin and product code for entering at the till.
It follows a similar move by Swedish retailer ICA, which trialled the technique on organic sweet potatoes and avos earlier this year, before expanding to other produce after positive consumer and media reaction.
M&S has previously trialled a similar technology on oranges, but ended the trial as the technique was not suited to citrus fruit.
The laser technology uses intense light to mark the top layer of skin without harming the quality of the fruit.
Charlotte Curtis, M&S fruit technologist, said: "When we first saw the technology in Sweden a couple of years ago I knew we had to get involved.
"We've been following it for a while and are so excited to finally be launching it on avocados. Sustainability is at the heart of our business and the laser labelling is a brilliant way for us to reduce packaging and energy use."
Demand for avocados continues rise, with sales at M&S up by 29 per cent last year.
"Providing all goes well with the avocado lasering, we could look at rolling the technology out to all sorts of other fruit and vegetables in the future. We have the potential to reduce packaging exponentially which is very exciting," Curtis added.