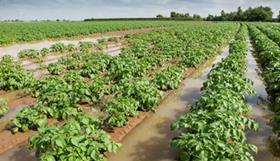 Following two of the most challenging potato harvests in recent memory, McCain has invested £25 million in the sector to help growers manage the increasingly erratic weather as well as the impact of Covid-19.
The UK's largest manufacturer of frozen potato products said the investment will strengthen its partnerships with its farmers and benefit wider industries such as retail and hospitality.
"British potato farmers have been hit immensely hard in recent years," saidHoward Snape, regional president at McCain GB & Ireland. "Having faced a major drought and the wettest harvest on record, they've experiencedtwoof the worst crops in40 years."
He added that if McCain had not honoured its contracts with growers and found alternative outlets, producers would have been left with a huge surplus of wasted potatoes when Covid-19 shut down the hospitality industry.
The £25 millionMcCain Potato Farmer Pledgehas been put together with farmer feedbackand is split into three elements:
1. Multi-year incentives:A 3-5-year loyalty scheme rewarding farmers who continue to grow. Theprogrammewill helpsupportthe farming, hospitality and retail industries by promoting a more stable and sustainable supply of potatoes.
2. Grant funding:A fund to which growers can apply for grants to invest in harvesting capacity and improved sustainable potato growing through irrigation infrastructure and innovative new technology, such as self-propelled harvesters. According to McCain, there have so far been 85 applications from growers.
3. Sustainable contracts:Alongside honouring contracts during Covid-19, McCain is optimising its contracts. This involves improving prices on early-season varieties and building greater flexibility into the farm-to-production system, to reduce delays.
This is in addition to the indexation model which measures changes in the costs of production to ensure fair and sustainable contract pricing for growers, a method McCain pioneered in 2007.
The manufacturer has decided toallocate 40 per cent of the investmentthis yearwhenfarmers need it most,having been hit by both severe weather and Covid-19's enforced closure of the hospitality sector,leaving a backlog of potatoes that cannot be used.
This immediate funding will be delivered through grower contracts with McCain, grant funding and multi-year incentive offers.
Alongside the pledge, McCain has also been helping farmers navigate the impacts of the coronavirus pandemic, which has led to an oversupply of potatoes caused by the closure of bars and restaurants.
As part of its commitment to honour all grower contracts, McCain worked to minimisewastage by reallocating potato varieties normally earmarked for foodservice to retail product lines, donating surplus stock to food banks via its partnership with
FareShareand, where possible, storing potato stock for use next season.
NFU president Minette Batters welcomed the commitment, saying "growers need all the support they can get to have the confidence to grow into the future".
"We're pleased to see McCain taking a leadership position and providing this much-needed investment opportunity and making a commitment to support their growers," she added. "We look forward to working with McCain to help ensure that British potato production has a strong and sustainable future."