Frozen potato specialist commits to paying growers 31% more to help them manage cost inflation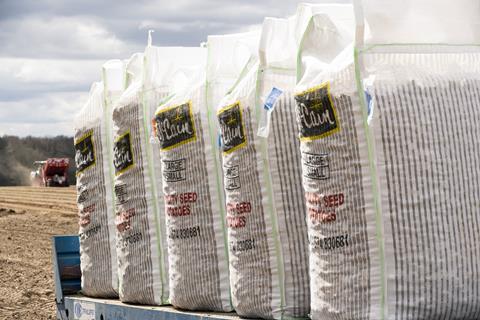 McCain has announced a £35 million investment in its farmers, committing to a 31% increase in the price it pays growers.
The UK's largest manufacturer of frozen potato products said the 31% contract indexation rise will help British farmers manage soaring inflation and "the increasingly challenging environment they operate in".
McCain reviewed next season's contract pricing in partnership with an agri-business consultant.
Other areas of support include a supplementary energy support package to help growers with long-term storage facilities. For the current season, McCain has also pledged to pay a supplement to those who've had to renew electricity contracts or are paying variable rates.
The move builds on a contract price increase of 15% from McCain in 2022 and a supplementary £5m energy support package. In total, this amounts to a £50million investment in British potato producers over two years.
The announcement also comes off the back of McCain's Potato Farmer Pledge, a multi-year £25m investment in the British potato industry that offered a loyalty scheme to growers, grant funding and "contract optimisation".
McCain said it was "taking the necessary steps" to support the future of potato farming in the UK, and this includes "an ongoing commitment to sustainable contract pricing".
James Young, vice president of agriculture at McCain GB & Ireland, added: "Potato farmers have been hit very hard in the last couple of years and are facing a myriad of unprecedented challenges – from droughts, to rising fertiliser costs and energy crisis – that are affecting the way they grow potatoes.
"The combination of all these factors mean that they have experienced one of the toughest growing seasons in the last 40 years.
"As the largest purchaser of British potatoes, we pride ourselves on our strong partnerships with our 250 growers and are committed to helping them overcome these challenges. However, more work needs to be done collaboratively to ensure the long-term viability of potato growing in the UK.
"We are committed to working with farmers, customers, industry leadership groups and the government to create a sustainable future for years to come."
In 2007, McCain introduced the indexation model method which measures changes in the cost of production to ensure fair and sustainable contract pricing for growers.
Ben Sykes, a potato farmer for McCain in North Yorkshire, said the system allows him "to continue to focus on producing quality crops for the business whilst we strive to be resilient, financially viable and environmentally sustainable for the years to come."
When it comes to environmental sustainability, McCain has a commitment to implement regenerative agriculture practices across 100% of its potato acres by 2030. This is supported by its global "Farms of the Future" initiative which focuses on regenerative farming practices, including enhancing biodiversity and soil health through technology and innovation.