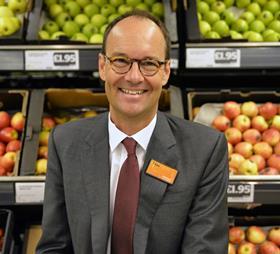 Mike Coupe is stepping down as Sainsbury's CEO after almost six years at the helm of Britain's second largest supermarket.
Coupe will depart his post in May 2020, with a successor already lined up in current Sainsbury's retail and operations director Simon Roberts.
The Sainsbury's boss said his time at Sainsbury's had been "the most challenging" in his 35 year career, and described the decision to leave as "very difficult for me personally".
Headlines under his leadership have been dominated of late by Sainsbury's failed merger with Asda, after the Competition and Markets Authority blocked the deal on the grounds that it would raise prices and reduce choice.
Coupe later slammed the decision, accusing the CMA of "taking money out of customers' pockets".
Following the announcement of his retirement Coupe said: "I feel very privileged to have spent almost six years running Sainsbury's, in a period that has been the most challenging and competitive of my 35 year career in retail.
"Sainsbury's is a very different business today to the one I took over in 2014. I have focused on setting the business up to deal with the strategic challenges of our industry."
Coupe said he was confident his successor would be a success in the new role.
"This has been a very difficult decision for me personally. There is never a good time to move on, but as we and the industry continue to evolve, I believe now is the right time for me to hand over to my successor.
"I am delighted that Simon will be the next chief executive and am confident that he is the right choice for our customers, our colleagues and our investors. I will do everything I can to set Simon up for success and will remain committed to Sainsbury's well beyond my departure."
Despite the failed merger with Asda, Coupe did oversee a wholesale partnership with Aussie supermarket chain Coles, which will see Sainsbury's supply its own-brand products to the retailer, white-labelled under the Coles brand.
Sainsbury's balance sheet has looked underwhelming for a while however, with profits taking a large hit last November, falling by 90 per cent having spent £200 million closing 15 supermarkets.
Roberts takes over a company that has also seen its market share stagnate at around 16 per cent, and was overtaken temporarily by Asda in April last year.
Incoming chief executive Simon Roberts said: "Sainsbury's is a tremendous business, with over 27 million customers a week and market-leading brands across food, general merchandise, clothing and financial services.
"As we come together, I am feeling hugely energised by what we can do for our customers and our colleagues. I firmly believe in our ability to create value for our shareholders as we continue to evolve and adapt this great business for the future.
"I would also like to thank Mike for his leadership of Sainsbury's over the past six years and for all his support since I joined the business. I have huge admiration for him. He is an outstanding retail leader and I look forward to working closely with him as we hand over in the coming months."