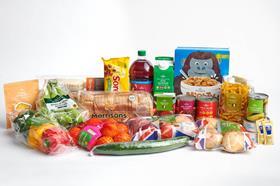 Morrisons has increased the capacity of its meal delivery service for children entitled to free school meals while schools remain closed.
The Morrisons School Meal Box costs £15 and provides at least £15 worth of food to the children who need it most. It has been developed in partnership with the supermarket's nutritionist Dr Hayley Marson to ensure the items included are nutritious, and there is no delivery charge.
The box includes a six-pack of Royal Gala apples, five bananas, a cucumber, four-pack of baking potatoes, three-pack of mixed peppers, a net of clementines, and a tin of sweetcorn, among other items.
Schools in England can claim back the costs from the government as part of the free school meals programme.
Since November, Morrisons said its stores have been working with their local schools to provide isolating kids who would normally be eligible for free school meals with food for breakfast and lunches.
Now, tens of thousands of Morrisons School Meal Boxes can be provided each week as Morrisons is moving the fulfilment out of stores and into its Food Box manufacturing team. It is also partnering with DPD to deliver the boxes directly to pupils' homes, free of charge.
The boxes provide enough food for one child to have five breakfasts and five lunches.
Footballer and child hunger campaigner Marcus Rashford praised the initiative by the supermarket: 'The purpose of forming the Child Food Poverty Taskforce was to demonstrate a strong commitment from the food industry to protect those most vulnerable across the UK,' he said. 'With shared values and ambitions, we have demonstrated power in unity across competitor businesses and I have been proud of initiatives members have rolled out in response to child hunger in recent months.
'Morrisons has acted by example in covering the deficit caused by children isolating and now acting to guarantee children on free school meals receive the substance and nutrition that they require and deserve during what is a difficult time for all. A big thank you to all involved.'
Rebecca Singleton, customer and community director at Morrisons, added: "Since November, schools have been telling us they've had difficulty getting free school meals to children as many parents cannot get to a supermarket during the pandemic. Our Morrisons School Meals Boxes will ensure that children are getting good quality, nutritional food delivered directly to their door."